TICS is abbreviation of TAHVIEH intelligent cooling system as a new product which design and fabricate based on each project spec.
This product replaces industrial cooling towers as well as Heller towers and is able to reduce the water consumption required for cooling the working fluid in process or steam cycles up to 90%.
Applicable cases: cooling systems in oil and gas, petrochemical and refinery industries, power plants, other industries
Capacity: The system is modular base and by increasing the number of modules, it has the ability to create cooling up to 320 MW or 100,000 m3/h of fluid flow with a central control system.
Conceptual performance: This system is based on using the cooling capacity of air in addition to the evaporative capacity of water and is able to guarantee the use of all the evaporative capacity by providing thermodynamic parameters in optimal conditions.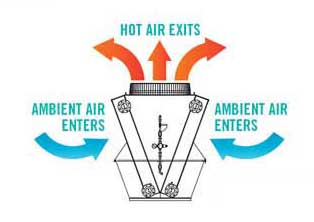 Advantages
– The amount of water loss in the TICS is up to 90% less than the cooling tower.
– Unlike the cooling tower, in the TICS system, the working fluid flows in a closed cycle, which reduces the consumption of chemicals required to maintain the chemical properties of the working fluid and also increases the life of the equipment due to the lack of oxygen penetration.
– Due to the modular nature of the TICS system, it is possible to change the cooling capacity by increasing or decreasing the number of modules. This capability is of interest due to climate changes and its effect on the required cooling in production units.

– The production and testing of the modules that make up the TICS system, measuring 12 meters in length, 25 meters in width, and 2.5 meters in height, are all done in the factory, and the installation and commissioning operations are only limited to the piping between the equipment in the site.
– Unlike cooling towers and especially Heller towers, the installation of the TICS modules does not require civil operations and special foundation.